Canadian Women Take First-Ever Sixes Gold, Defeating USA 14-12 To Sweep Men's and Women's Categories
---
---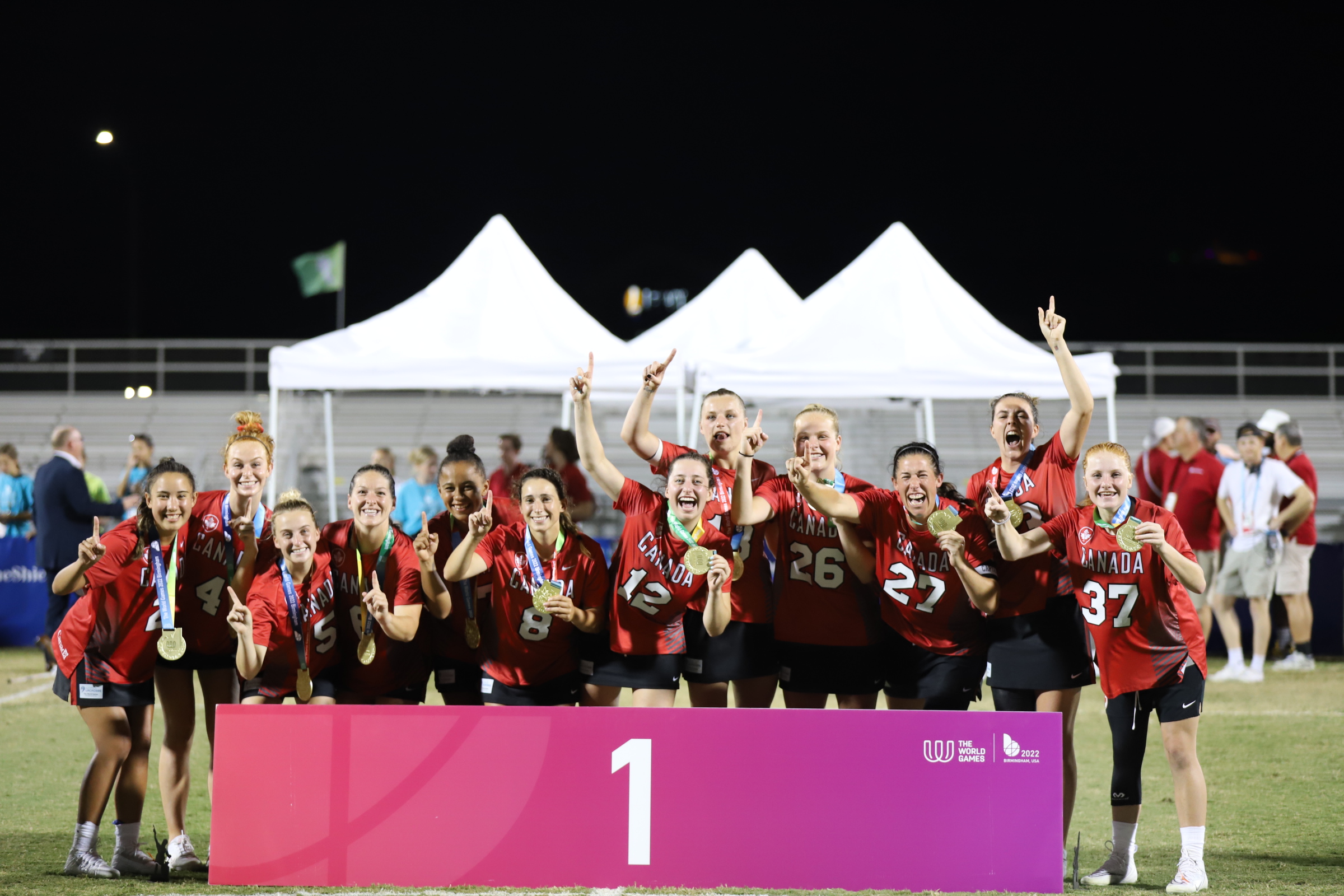 ---
Birmingham, AL—Canada's two-way talent was the star of the show on Saturday, resulting in a long-awaited win over the USA in the global debut of the World Lacrosse Sixes format, during the 2022 World Games. The team had 7 different scorers, and goaltender Lauren Spence continued to demonstrate her dominance in net.
"These players gave it their all, after a grueling three weeks for many, it's well deserved. Their Canadian talents were on full display, and they provided a great example for the future of Sixes lacrosse," said head coach Scott Teeter. "They earned this every second on and off the field."
The World Games saw the global debut of Sixes lacrosse, the shorter, faster-paced version of the game launched in 2020. It is played on a 70x36 meter outdoor field, has 8-minute running time quarters, and a 60-second shot clock.
Dana Dobbie, who finished the tournament with 11 goals, is proud of the team's ability to persevere through heat, delays, and exhaustion.
"It's everything we've ever dreamed of, and to share it with this incredible group makes it even more special. Playing a version of lacrosse that we could see in the Olympics means everything. Silver's been pretty good, but obviously winning gold is the best it ever could be."
Canada showed no sign of that exhaustion throughout the tournament, opening with a 16-9 win over Great Britain, a 14-6 win over Israel, and 19-7 win over Haudenosaunee in the preliminary round. They defeated Australia 12-7 in the semi-final round.
Canada finished the tournament with 75 goals for, good enough for second in the tournament, and 41 goals against, tied for first.
Aurora Cordingley (13 G, 9 A) and Erica Evans (11 G, 2 A) put up outstanding performances in the new format. Lauren Spence was a force to be reckoned with in the cage, saving more than 50 goals. The Canadian's grit and speed, as well as the team's chemistry after nearly three weeks together was a significant contributor to their success.
The Canadian Men's team won gold at the event on July 12, and both teams will head home from The World Games with hardware.
---
About Lacrosse Canada
Founded in 1867, Lacrosse Canada is the governing body responsible for all aspects of lacrosse in Canada. Our organization is comprised of 10 Member Associations representing nearly 85,000 individual participants, including coaches, officials, and athletes of all ages and abilities. Lacrosse Canada's mission is to honour the sport of lacrosse and its unique nation-building heritage, by engaging our members, leading our partners, and providing opportunities for all Canadians to participate. Lacrosse Canada oversees the delivery of numerous national championships and the participation of Team Canada at all international events sanctioned by World Lacrosse. Lacrosse Canada is proud to be affiliated with partners that share the same vision and values, including our corporate partners - NormaTec Recovery Systems, RockTape, OPRO, Canadian Red Cross, Westjet, and Baron Rings - as well as our funding partners the Government of Canada, the Coaching Association of Canada, and the Canadian Lacrosse Foundation.