17U Canada Games Female Team Open Tryouts
---
---
2022 Canada Games 17U Female Box Lacrosse Team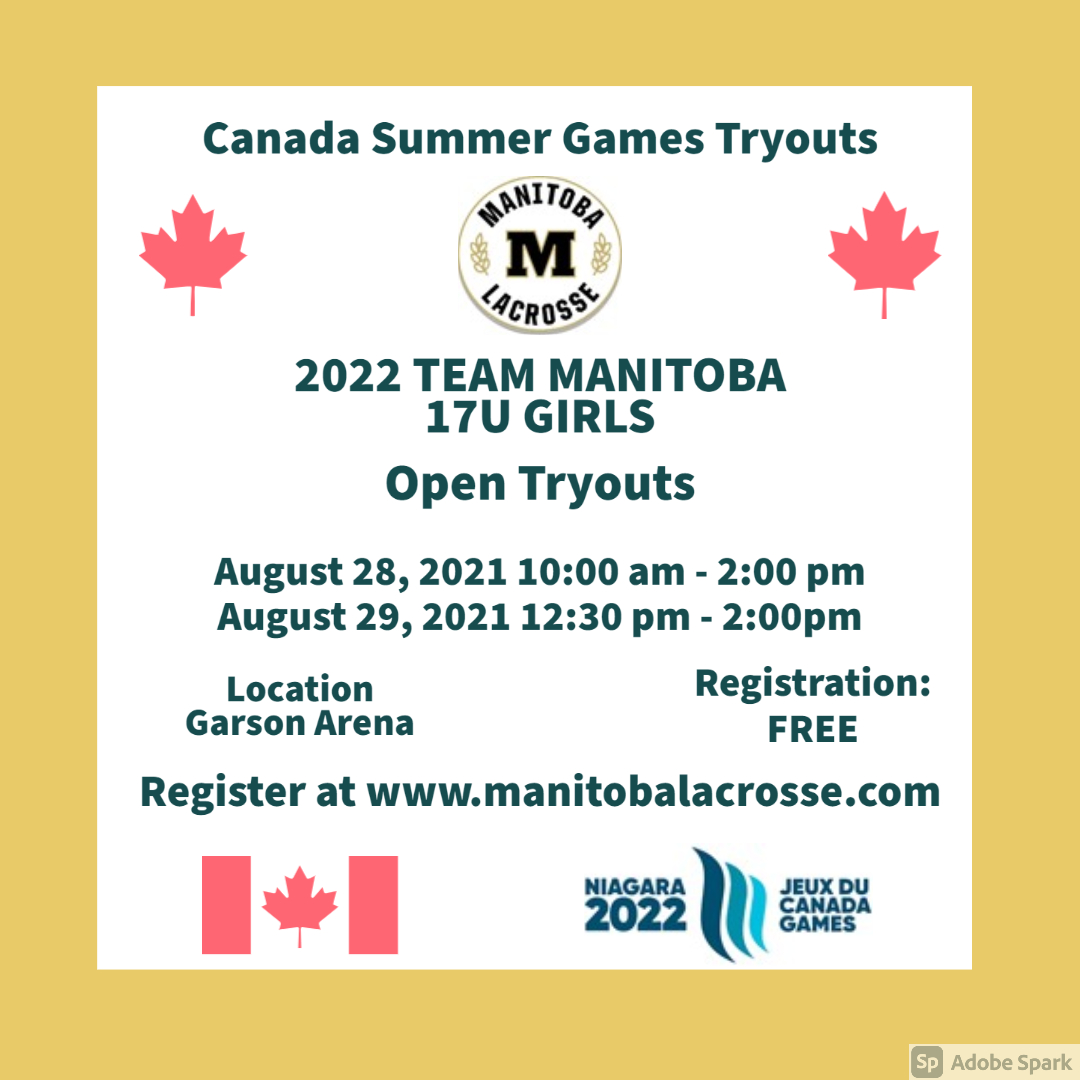 With 2022 being the first year of lacrosse's inclusion in the Canada Summer Games since 1985, the Manitoba Lacrosse Association is excited for the opportunity that this presents our athletes.
The Canada Games, held every two years, alternating between summer and winter, are the largest multi-sport event in the country and represent the pinnacle of inter-provincial/territorial sport competition. As the best in their age group, these young competitors come to the Games having trained long and hard to be among those chosen to represent their respective province or territory. Since 1967, nearly 100,000 athletes have participated in the Games with hundreds of thousands having engaged in try-outs and qualifying events. Add to that the over 100,000 coaches, officials, and volunteers that have been directly involved in the planning and staging of the Games and you have some idea as to the enormous reach of the Canada Games over a proud history.
With girl's box lacrosse is a relatively new venture for the Manitoba Lacrosse Association, the 17U Female Lacrosse Team coaching staff has been committed to blazing the trail for a program that has been long overdue in the province.
Head Coach - Kim Winzoski
Assistant Coach - John Harding
Assistant Coach - Don Jacks
Assistant Coach - Daina Ojala
Athlete Eligibility
Team Manitoba's 17U Female Box Lacrosse Team will consist of athletes born in 2005 and under, as well as two (2) 2004-born overage athletes. Athletes must be members in good standing with the Manitoba Lacrosse Association in order to participate
Selection Camp
Open Tryouts - Garson Arena - 9 Thompson Ave, Garson, MB
Saturday, August 28th 10:00 AM - 2:00 PM
Sunday, August 29th 12:30 PM - 2:00 PM
All athletes will participate in both sessions on August 28th and 29th and are asked to arrive for check-in approximately 30-minutes before your scheduled session. Athletes will be put through fitness testing prior to their on-field lacrosse skills evaluation.
Training/Main Camp
September 2021 - March 2022
The main camp will be by invitation only.